See more pictures from the 7-6 Omaha win HERE.
A few shots from last night's Storm Chasers game. Click any picture to go to the original on Flickr, and don't forget to check out the tags under each picture there for your browsing convenience.
Duffy later Instagrammed the picture, and said "My man was a little shook! But we talked a little UNC hoops and it was all gravy. Saw soooo much of me as a little guy in this kid. Love this game."
As for the kid, I don't mean to pick on him by highlighting this picture, at all. I know too well the feeling of arriving somewhere and then immediately going NOPE NOPE NOPE and heading right back home (or at least wanting to). What I do want is for his parents see Duffy saying he was this kid, and he grew up and made it to the Bigs.
Duffy pitches tomorrow night, by the way, followed by Yordano Ventura on Friday. I'd suggest dropping everything and going to Werner Park for both games. Velocity will be the story on both nights, as Duffy gets deep into his rehab assignment and whoever catches for Ventura tries to avoid having his 100+ mph fastball burn a hole through his glove.
While we're thinking about Seratelli, I'd just like to point out that he"s having a really good season at the plate. Thanks in part to the one of the highest walk rates of his career, his OPB stands at .401 right now. He also has 6 home runs and 10 stolen bases, and in addition to regular duty in right field, he has played every infield position. He is pretty much the best Swiss Army knife a team could ask for, and I wish the big club could find a way to stop ignoring him.
The Chasers are having a bit of a down year, at 30-39. It is a far cry from the team that wrapped up a division title in mid-August of last year, that is for sure.
I don't want to pile on, because I like this team and I want them to do well, but here's a bit of a breakdown of what's led to this 30-39 record:
The Omaha lineup, despite having one of the oldest (read: Most experienced?) lineups in the PCL, is scoring the 4th-fewest runs in the league (4.52 per game, 312 runs total)
Omaha has the 4th-lowest team batting average and the 3rd-lowest OBP, as well as the 3rd-lowest slugging percentage.
They've hit the 4th-fewest home runs, too, and are dead last BY FAR in doubles hit.
The pitching staff is actually in the top 4 or so in most categories. They're in the middle of the pack in walks allowed, and toward the bottom in total strikeouts (but somehow tops in the league in K/9?).
I guess, overall, the biggest problems seem to be with offense, and timing. The pitching staff is, at worst, average. And, apparently, I like commas.
Anyway: Go to the games on Thursday and Friday. Watch Duffy and Ventura, and keep an eye on the radar gun both nights. Maybe Jarrod Dyson will have another 4-steal performance.
I won't be here for his AAA debut on Thursday, but I did see Yordano Ventura in the Storm Chasers dugout this evening.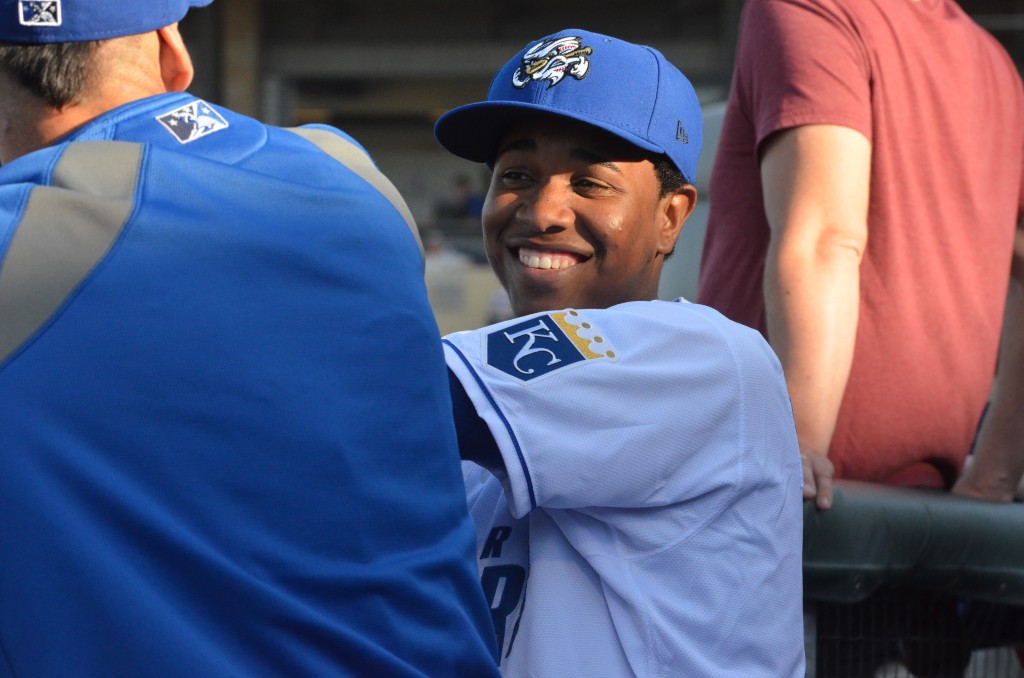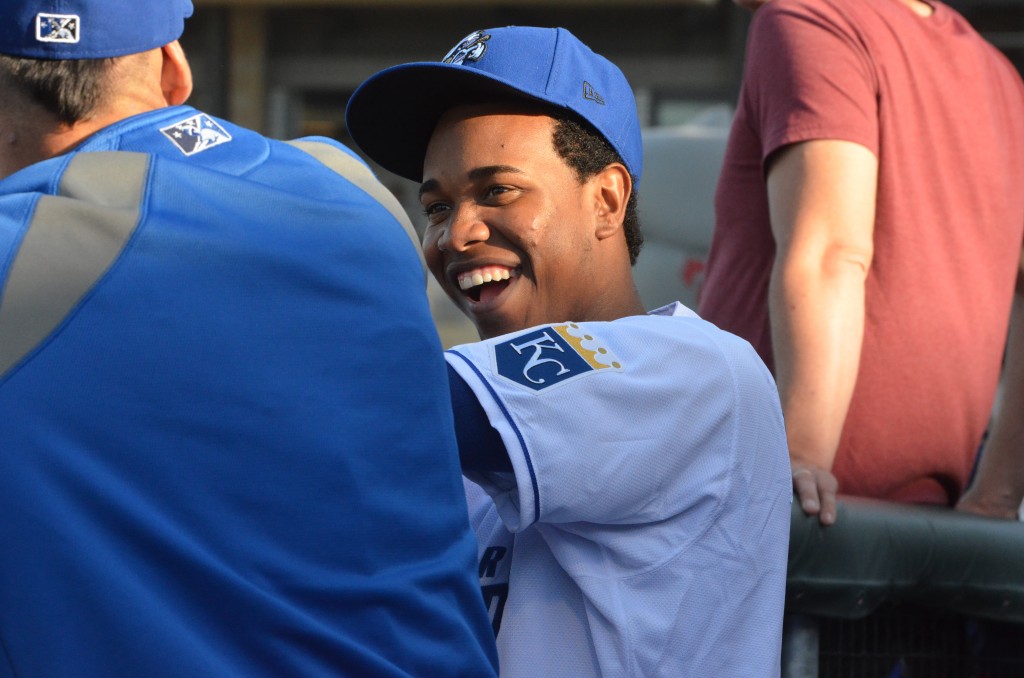 Shortly after this, the rest of the Chasers players started trickling into the Omaha dugout, and wishing Ventura a happy birthday. It was very sweet. Here's hoping Ventura's start on Thursday is a successful one!
This happened tonight at Werner Park. I knew it was coming, and it still made me all weepy. But you can see for yourself; the people in the crowd felt the same way.
See tonight's full set – including the Human Cannonball! – HERE.
Saw this at Royals Review, and was so mindblown I had to share. This gem is going to stay up here, at the top of my front page, for as long as it takes.
If you make enough good decisions, three-year plans turn into two-year plans and five-year plans turn into three-year plans. If you make bad decisions, 10-year plans turn into no plan.
See? Amazing. Let's turn it up a little:
If you make bad decisions, 10-year plans turn into no plan.
10-year plans turn into no plan.
no plan.
We are just under three years away from Dayton Moore fulfilling his own prophecy and realizing he has no plan.
I'm a happy person, generally. My momma taught me to find silver linings everywhere, and give people the benefit of the doubt. Someone cut me off in traffic? Maybe there's a woman in labor in the backseat. Hit a crappy tee shot?* Well, what an opportunity to work on shooting out of the rough. I'm in the line at the grocery store with the world's slowest checker? Ahhh, an opportunity to grow in patience.
*though I was on the varsity team all four years of high school, I was a crappy golfer. This 'silver lining' skill came in handy.
And in general, I keep the Royals' woes in perspective. They've been horrible my whole life and then some, but even at their worst, there are much bigger problems in the world at large, and even in my own life. So, whatever. Let's go drink a Royal 'Rita at The K and hope for a win. If they lose, whatever, we've seen this before but the world won't end.
But I dunno. Something is different about this round, somehow. It's more infuriating even though, in a lot of ways, it's the same old Royals. We're watching a manager stick a guy with a career .311 OBP in the leadoff spot because grit and hustle are apparently more important out of the #1 slot than avoiding outs. The same manager finds a way to blame us, the fans, the ones who pay money to watch his baffling lineups fail to score any runs ever, for the team's continued failures.
Nedward apparently learned this refrain from his boss and his managerial predecessor, because they've both scolded us for being too impatient even though we've suffered for decades AND given Dayton Moore seven years to accomplish the amazing feat of losing 15 of the last 19 games. And the "best farm system ever?" It's now just a slightly less bare cupboard than the one he inherited. Additionally, we have an insufferable TV broadcast duo, who, after today's starter gave up four home runs AGAIN, agreed that he pitched "really well."
This is the same old Royals. We were led to believe that somehow, this time would be different, and it's not different. So sorry, James Shields, your wonderful starts are being wasted by the roster around you, an offense who likes to run into outs all over the damn diamond because again, grit and heart are more important than logic or conserving precious outs.
I'd like to say that I had some magical gut feeling after the first inning when I started tweeting incredibly grumpy things this afternoon. But it doesn't take special prescience to know that when the Royals see 7 whole pitches from Billy Freaking Buckner in the first inning, it's just another Royals game in a decades-long string of the same old crap.
This has been a banner week for stinging takedowns of these 'Come to Play' Royals, who are barely distinguishable from the humiliating 'Our Time' Royals, the laughable 'True. Blue. Tradition.' Royals, the 'Your Hometown Team' Royals, and so many the other Royals before. I don't have much new to add to the refrain, because all of us are mad in a way that makes us stare at the team's B-Ref page in a rage-tinged disbelief, wondering how anyone thought that this team would actually 'Come to Play.'
Yesterday was a sad day for Royals fans. I shared some memories of Fred White over at Ladies….
It feels a little bit like a loss within the family, doesn't it?
Here are links to my photos of every player who comes through Omaha this year. Bookmark this page for reference; I will be updating it throughout the season as the roster changes.
To browse the full list of every tag I've ever used, click HERE. I welcome suggestions for additional tags on any picture.
PITCHERS
CATCHERS
INFIELDERS
Freddy Sandoval
OUTFIELDERS
This was a fantastic game. Chris Dwyer was excellent again, using his curveball to keep the Redbirds off the board completely for 6.1 innings. Like his last home start, he did not get a double-yoo. That went to Louis Coleman, who got the BS/W combo. Coleman was actually good in his 2.2 innings, though he had to work around a double and a walk in the 10th.
Irving Falu led off the bottom of the 10th with his 2nd triple of the day, and David Lough drove him in on a single to right field. Lough drove in both of Omaha's runs on the day, and his 2-5 performance raised his average to .364, and his OBP to .423.