Every Friday of the baseball offseason, I'll share five photos from the past year. Hopefully that will make time go by a bit faster before pitchers and catchers report.
Click on any picture for a bigger version, or e-mail me if you need a full-res version for any reason.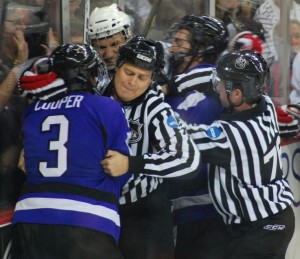 Hockey! I'm not one of the rubes who only watches hockey for the fights, but the fights make for some dramatic photography. The fellow in the white helmet is Omaha's Matt Ambroz. The Mavs are in 2nd in their new conference, the WCHA, and something like #6 in the entire country. I will be dumping photos from the entire season into this facebook album, so check that out for more hockey goodness.
Hit the jump for four more!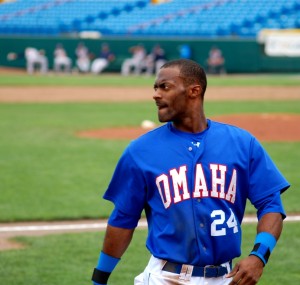 Jai Miller is now a free agent. Is this picture scary, or kind of awesome? I can't decide, but I do really like how the brilliant blues of his jersey stand out so crisply against the out-of-focus background. I don't know who he was looking at, but I'm guessing it was his manager, Mike Jirschele.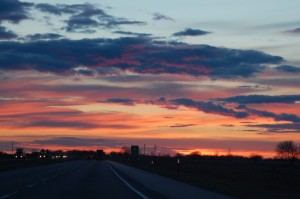 I know I had a photo of this very sunset last week, but…well, I love Nebraska. It's a beautiful state, and I'm kind of afraid that nobody outside of the Midwest will ever know that. This is Interstate 80, a huge trucking route – you can see numerous 18-wheelers in this picture, and that's pretty normal for I-80.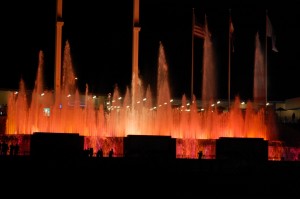 I had to get out my winter coat today, which means I can officially no longer deny that summer's gone. But when I see this – the fountains at Kauffman Stadium, with silhouettes of fans watching the fireworks – damn. I miss summer. This makes a very handsome wallpaper, so let me know if you want the full-res version. What's even better about this photo is that it was taken after a Royals win over the White Sox!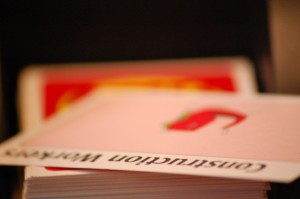 Apples to Apples is one of my family's favorite games. My stomach usually hurts at the end from laughing so hard, but then, that is a pretty typical thing when the Haases get together.
Related posts: