Because women can't understand sports media that's geared toward men!
The incomparable Pete Gaines alerted me to the impending existence of ESPNW, a version of ESPN that will cater to women and their tiny brains, because "women see us as an admirable brand that has authority. But they see us as their father's brand, or husband's brand, or boyfriend's brand. They recognize it's not theirs."
Puke. You can't put sparkles on sports and assume female non-sports fans will suddenly love it. Women who genuinely like sports already watch/read the real ESPN(s), and women who don't like sports won't bother with the version that is "theirs."
Here's ESPN.com tonight (click to enlarge):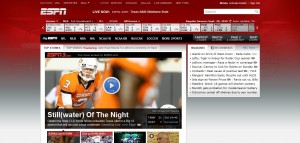 …and here's what I imagine ESPNW will look like (click to enlarge, because there's some awesome stuff hidden in there).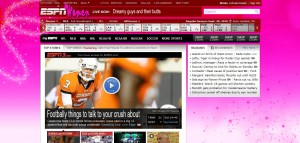 Sigh. I can't wait to see this fail.
Related posts: