If you don't watch 'Dancing With the Stars,' 1) you should, but 2) here's some background: This season, for the first time, the cast of celebrity dancers is made up of stars who have already been on the show. Many of them are champions from past seasons. (And then there's Pamela Anderson, not sure why. Hey, boobs!)
A typical season, though, has a bunch of people who are famous for other stuff trying to figure out how hard dancing is. Even elite athletes typically spend the first few episodes tripping over their feet. Watching my favorites learn how to dance is a huge part of the fun of a season, and it makes spectacular late-season performances that much more special.

With a cast of stars who have already figured out how to move their bodies around without falling over on their face, and even become decent ballroom dancers, I've wondered if this season will suffer without that "zero to hero" narrative arc (and the schadenfreude associated with watching Kate Gosselin falling on her face).
After watching the Week One performances, what I think is that the show won't be worse without that narrative, but it will be different.
And that's how I think the second wild card is playing out. My dad will disagree because he's a purist, but having an extra wild card spot isn't ruining the drama as we head into October (already! Holy crap!), but it's certainly different. Managers are changing their rotational strategies in ways that might not have had to happen with just one Wild Card. I'm willing to stick with both the competition for the World Series and the Mirror Ball Trophy as they play out new kinds of drama into my living room.
Oh, also: To any Detroit Tigers fans out there – YOU'RE WELCOME.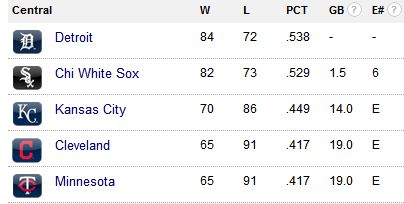 __________________________________________________________________________________
Please consider supporting my writing and photography by doing your Amazon shopping through my affiliate link. (Explanation here.)
No related posts.