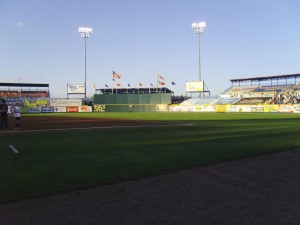 Three gut-wrenching one-run losses to Iowa last week pretty much spelled doom for the O-Royals' playoff chances, but it was still technically possible for them to play some bonus baseball. So, like any longtime battered Royals fan, I held on to that sliver of token hope.
But now, that cruel little 'E' is there in the standings. The team's fate is officially sealed – it's over.
I shouldn't beat myself up over the elimination of a Triple-A baseball team, but a postseason would mean a few more games at Rosenblatt Stadium. Like any hard goodbye, my personal farewell to the stadium on Thursday night included an unspoken wish that it wasn't really goodbye, it was just goodbye until fate gives us another excuse to hang out. It was past 1:00 Friday morning before I finally left Lot 2 for the last time, and as I got in my car I told my best friend, "It's time to go. I'm at peace with my time here."
And then I broke down crying. It was a lie; I'm not ready for it to be over; not yet.
It turns out, four years of my life spent at Rosenblatt wasn't nearly enough. I'd happily put up with the narrow walkways and overcrowded concourses and leaky ceilings for four more years if I could. I think that'd be easier than letting go – and seeing so many thousands of fans have to let go too.
The atmosphere at the front gates after the fireworks was strange. Usually, when I help hand out coupons for free stuff, people press in on me to the point where I have minor panic attacks. Thursday, the throng of people filing out of the stadium was morose and sluggish, like mourners leaving a burial. Nobody pressed; nobody was in a hurry to get out of there.
But at least those fans – something like 23,000 of them – got to leave from a win on a beautiful, crisp night. One last win at the Blat, the team's 1601st. One last performance by the 'Fat Lady.' One last blast from the 'victory flames' in left-center field, and one last dramatic lights-out moment before one last fireworks show.
Some other lasts:
Last time walking up to the front gates: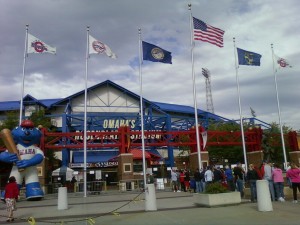 Last Royals starting pitcher: Luke Hochevar
Last Royals winning pitcher: Edgar Osuna
Last out: A lazy fly ball caught by Jarrod Dyson
Last pitch thrown by: Tiny Tim Collins
Last home run: Mike Moustakas (hooray!)
Last 'Fat Lady' performance by: My best friend Becky, introduced by team president Alan Stein in matching Fat Lady costume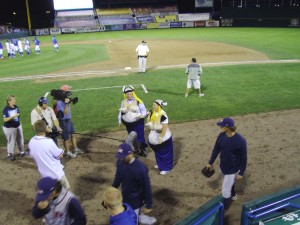 My last game of catch: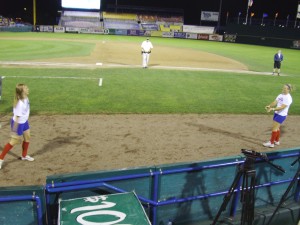 After the last of the fans left, there was a reception up in the Stadium View Club for team employees, season ticket holders and a few others. I would have stayed there for a few more hours if I didn't have to be back in Lincoln for my other job by 2:00, but the beer and good company were a great way to ease the sting of driving away – one last time.
Related posts: