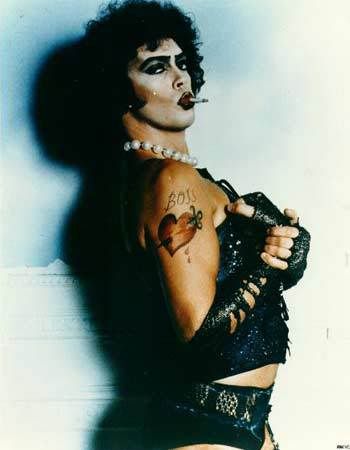 Yep, another one of those "Other Things." I'll come back with some baseball stuff later.
This weekend at my neighborhood theatre is one of my favorite events to experience, and something I think everyone should do at some point or another: the Rocky Horror Picture Show. I went last night amidst a huge crowd, and as usual the showgoers ranged from regular jeans-and-tees folks to hardcore RHPS devotees in elaborate costume and makeup. (Admittedly, I do not have the confidence or the right type of wardrobe to be the latter, so I show up as the former.)
But something was very different about last night's showing…they had rules! It seems so contrary to enforce strict rules for RHPS, but sure enough the Dundee did not allow the usual props like rice, squirt guns, toast, toilet paper, etc. I understand that it's the biggest pain in the ass of the year (or a lifetime) to clean up after a raucous Rocky crowd, but anyone who went last night for the first time totally missed the full RHPS experience, and we all know it's not just something to watch, but rather an event in which every spectator is also a part. What fun is it to raise a toast if nobody has actual pieces of toast to throw around, and how are we supposed to feel the rain of that fateful night without squirt guns (and newspapers just like Janet's under which to cower)? If I'm not picking rice out of my hair the day after the show, something is very wrong.
Still, I'm glad I went. It was a good time, and there was some quality yelling from all corners of the theatre. My friends and I had feared that the line was too long and we wouldn't get in. But I made it all the way to the ticket counter, handed over my cash, and when the guy had given me my ticket he slammed his hands authoritatively on the counter: "That's it! We're sold out!"
I felt like the biggest douchebag in the world, and with everyone behind me staring daggers through me, I slipped into the dark theater about 10 minutes after the show started. Because we were the last in, there were no seats together, and we each had to sit by random strangers. Partway through, I got the triumphant news that the Royals had signed Eric Hosmer. It was sad to not have anyone around with whom to share the happy news, but at a showing of Rocky Horror, one is never too likely to find many diehard baseball fans. There were three baseball fans there of whom I know, and they were all in my group, and one of them was me.
If you've never been, and if the picture at the top of the post doesn't scare you, I highly recommend going to experience RHPS. Every city has some cool, quirky theatre that shows it at least one weekend per year. The cool thing about my particular theatre is that my mother used to go see new movies there when she was in high school (which was approximately when Rocky Horror was a new release). So every time I go to a movie there, I feel like I'm sharing an experience with Mom, because not a whole lot has changed in the building.
And I might even go again tonight, because the Royals already have done their best to suck the very lifeblood out of me today. But I won't post about it again, because this post is as long as I can possibly stray from baseball.

Let's do the Time Warp again!
ETA: If you're not familiar, check out some of the stuff from the RHPS Cult Following wikipedia page. It explains what I mean about toast, rice, etc.
Labels: other things
Related posts: